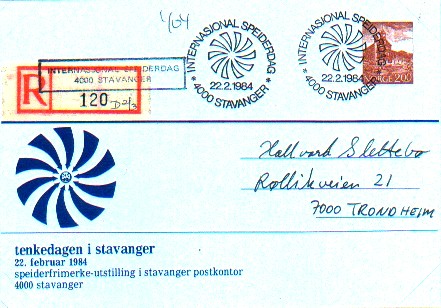 In co-operation between Norsk Speiderfilatelistisk Gruppe (Spiva-Fil, Norwegian Scout Philatelic Group in Stavanger) and Norway Post, a postal card was produced in connection with the second scout stamp exhibition in Stavanger 1984. The stamp imprint shows Tofte farm in Dovre. The illustration to the left is the international thinking day symbol. The card reverse is blank.
2,500 postal cards were printed locally in Stavanger, in blue colour. The red stamp imprint was subsequently recess printed by E. Moestue A/S in Oslo. The cards were probably available from purchase from 22 February, 1984.
A special postmark was used at the stamp exhibition, N-125. It repeats the Thinking Day symbol. Registered cards required additional postage, which could be affixed on front or reverse. Blank registration labels were used, tied to the card with a squared cachet with text "INTERNASJONAL TENKEDAG / 4000 STAVANGER".